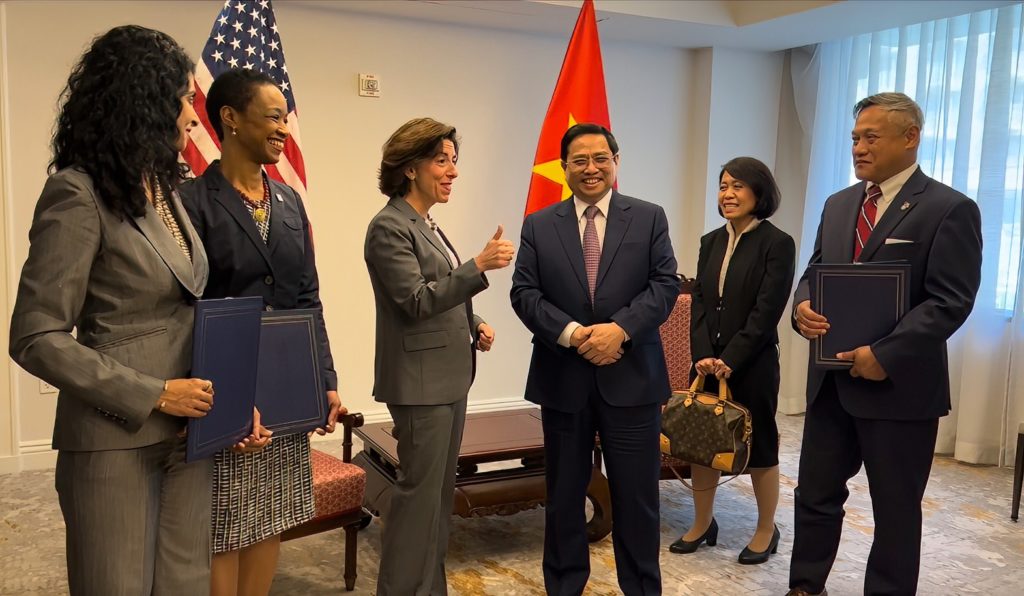 Washington, DC. On May 11, 2022, The United States Trade and Development Agency ("USTDA") has awarded a grant to DOE Americas LLC via its affiliate, Mekong Clean Energy Infrastructure Co., Ltd. ("MCEI"), in Vietnam. This grant will be focused on the feasibility study of the 500 KV transmission line in Vietnam for the Bac Lieu 3.2 GW power plant that will enable a multitude of renewables projects in the southern provinces to be connected to the national grid for the next 25 years.
"The grant provides endorsement by the US government to provide affordable and reliable clean energy to the country and people of Vietnam. This government-to-government partnership will support Vietnam to achieve its goal of carbon neutrality by 2050 and support economic development for its people as declared at the 26th UN Climate Change Conference of Parties (COP26)." said Ian Nguyen, Managing Director, Delta Offshore Energy.
The special ceremony was attended by the United States Secretary of Commerce, Gina M. Raimondo, the Director of United States Trade and Development Agency, Enoh T. Ebong, and The Prime Minister of Vietnam, His Excellency Pham Minh Chinh, and nine of his top Ministers including the Minister of Industry and Trade (MOIT) H.E. Nguyen Hong Dien. Black & Veatch Management Consulting LLC ("Black & Veatch") was represented by its Vice President and Senior Managing Director, Deepa Poduval, and Delta Offshore Energy Americas, LLC, was represented by Managing Director Bobby Quintos.
US based engineering firm, Black & Veatch will be responsible for the execution of the feasibility study in the US and Vietnam. "Development of the Thot Not transmission line will address a key strategic concern of the Bac Lieu LNG-to-Power project and ensure the real benefits of lower carbon energy are dispatched reliably and effectively to the people of Vietnam," said Deepa Poduval, Vice President, and Global Advisory Lead. "Black & Veatch is committed to continue supporting Vietnam in achieving new levels of technical and commercial success as it delivers upon its ambitious energy transition plans." Black & Veatch will engage with the Institute of Energy of the Socialist Republic of Vietnam in preparing the Feasibility Study on Vietnam-specific matters.
"This USTDA grant for the feasibility study of the 500 kV transmission line from Bac Lieu to Thot Not will enable many renewable projects along the route that would not have been realized without the 500 kV line to evacuate their electricity. The USTDA grant also supports very good American jobs at home and levels the playing field for US companies to compete abroad." said Bobby Quintos, Managing Director, DOE Americas, LLC.
---
NOTE TO THE PUBLISHER
Delta Offshore Energy recognizes the support from the United States Government Agencies, The Vietnamese Government, and the private sector companies in the US, that made this grant possible.
Senator, John Cornyn (Texas) A special Thank you to Laura and staff
Senator, Ted Cruz (Texas) A special Thank you to James Schindler, Ricardo Pita, Matthew Swint, and staff
Congressman Representative Kevin Brady (Texas) A special Thank you to James O'Brien, Delayne Smith, and staff
USTDA
Enoh T. Ebong, Director
Verinda Fike, Regional Director for the Indo-Pacific
Tanvi Madhusudanan, Indo-Pacific Manager
Chelsea Gunter, Assistant General Counsel
Tuyet Trees, Representative, Vietnam, South and Southeast Asia

Black & Veatch
Deepa Poduval, Vice President, Senior Managing Director
Yatin Premchand, Principal Consultant, Business Development
Kiran Budhlani, Consulting Manager

Hogan Lovells
Aaron Cutler, Partner, and Head of Government Relations & Public Affairs
Charles Kolo Rathburn, Associate
A Special Thank you to the Bac Lieu Provincial Government in Vietnam
---

About Delta Offshore Energy PTE
Delta Offshore Energy PTE ("DOE") is a company focused on the origination and development of clean energy. Currently, the most prominent project of DOE is the 3200 MW Bac Lieu LNG-to-Power project which was included in Vietnam's National Power Development Plan 7 revised ("PDP7R"). DOE received the Investment Registration Certificate in Vietnam in January 2020. The project is the first domestic LNG-to-Power project that is 100% private-funded under the IPP regime in Vietnam. In June 2021, DOE established Bac Lieu LNG Power (BLLP) Company Limited and appointed Mr. Canh Do Ba as the legal representative and General Manager of the Company. Bac Lieu LNG Power Company Limited was registered at the Bac Lieu Department of Planning and Investment with the business code of 1900677981 issued on June 11, 2021. This is an economic entity set up by DOE to directly execute all related contracts, permits, and approvals and to implement the Project in accordance with the laws of Vietnam.
For more information, please visit: www.deltaoffshoreenergy.com
Media Contact:
Ms. Miriam Quintos
Director of Communications & US Government Advocacy
[email protected]
Mobile number: +1-956-330-0038