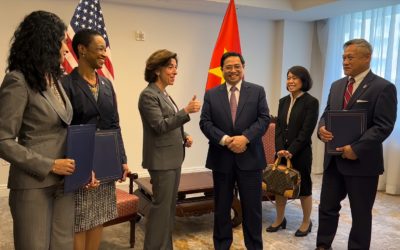 Washington, DC. On May 11, 2022, The United States Trade and Development Agency ("USTDA") has awarded a grant to DOE Americas LLC via its affiliate, Mekong Clean Energy Infrastructure Co., Ltd. ("MCEI"), in Vietnam.
read more
Delta Offshore Energy In the News
Delta's 3,200MW Bac Lieu liquefied natural gas-to-power project has completed about 95 per cent legal requirements of the preparation phase. However, there are nine outstanding issues. Two involve the appraisal of feasibility reports by the Ministry of Industry and Trade, and approval of state assurances for project implementation as stipulated in the Law on Investment 2020 and Decree No.31/2021/ND-CP. The latter will enable the negotiation and signing of a power purchase agreement, allowing the project to meet all bankability requirements of international lenders.
read more
Mid year report on Vietnam's economy with the Bac Lieu LNG-to-Power project as a highlight FDI for 2020
read more
On Saturday, January 12th, 2019 a meeting in Ho Chi Minh City, Vietnam was hosted by H.E. Prime Minister Nguyen Xuan Phuc with cabinet members including Ministers, Vice Ministers and equivalently ranked officials from 8 central government agencies as well as the...
read more
Delta Offshore Energy News Articles
McDermott Awarded FEED Contract by Delta Offshore Energy for Gas Pipeline in Vietnam
08.26.2020
McDermott International Ltd. today announced it has been awarded a contract by Delta Offshore Energy to provide front-end engineering design (FEED) services for a subsea gas pipeline. The pipeline will connect a regassification platform, located approximately 22 miles (35 kilometers) offshore, to the planned 3,200 MW power plant in Bac Lieu Province, Vietnam.
Singapore company sets up shop in Houston with eye on U.S. LNG market
08.18.2020
Singapore liquefied natural gas company Delta Offshore Energy is opening a new office in the Houston area as the firm moves forward with plans to build an offshore LNG import terminal to feed a planned power plant in Vietnam.
Vietnam's Delta Offshore Energy backs away from renewing MOU with Magnolia LNG
08.11.2020
Vietnam-based Delta Offshore Energy, which is building an LNG-to-power project in the country's south, has backed away from renewing a recently expired preliminary agreement for LNG supply with US-based Magnolia LNG.
LNG Ltd to supply gas to Vietnam from Louisiana project
09.17.2019
Our alliance with LNG Limited will allow the Government of Vietnam to have a stronger relationship with the U.S. market," Bobby Quintos, engineering managing director for Delta Offshore Energy, said in a joint statement
PM hosts investors interested in Bac Lieu power project
07.28.2018
Prime Minister Nguyen Xuan Phuc hosted a reception in Hanoi on July 25 for investors who are planning to pour capital into a liquefied natural gas (LNG)-fueled power project in the Mekong Delta province of Bac Lieu.
No new coal-fired power plants in the Mekong Delta before 2020
10.17.2017
Vietnam Sustainable Energy Alliance (VSEA) welcomes Prime Minister Nguyen Xuan Phuc's recent statement on the need to 'minimize' coal power and 'develop renewable energy,' and is calling on the Vietnamese government to turn words into action by putting a moratorium on new coal power stations in the Mekong Delta until 2020.
DOE discusses Bac Lieu LNG-to-power PPA with Government of Vietnam
05.28.2020
LNG industry coverage on DOE discussing PPA with Vietnam Government
The Prime Minister advocates billion-dollar project for Bac Lieu's development breakthrough
01.12.2019
News article on the Government of Vietnam's official website about the a meeting in Ho Chi Minh City hosted by H.E. Prime Minister Nguyen Xuan Phuc and co-paneled by H.E. Nguyen Quang Duong, Central Party Committee Member (body of the top 170 politically ranked party members) cum Party Secretary of Bac Lieu Province. The meeting included Cabinet members, the entire political presence of Bac Lieu Province leadership and Electricity Vietnam ("EVN").
PM Talks up Mekong Delta potential for gas-fired power plants
07.27.2018
There is great potential to develop gas-fired power projects in the Mekong Delta and a number of investors are seeking opportunities to do so, PM Nguyen Xuan Phuc has said.
S&P Global Platts interviews DOE
03.05.2020
DOE shares their view on the LNG market opportunity in Vietnam
PM, GOV Chairman, MOIT and EVN support Bac Lieu Province energy sector
02.26.2020
Bac Lieu Province has the full support of key central government stakeholders and EVN to implement the project.
Bac Lieu LNG-to-Power included in PDP7 revised
12.24.2019
Inclusion paves the way for project to be granted an investment registration certificate.
MOIT Minister works with Bac Lieu leadership
03.22.2019
MOIT Minister visits Bac Lieu Province to discuss the 3200MW LNG to Power project and address the transmission line interconnection with the national grid.
Coal-fired thermal power plants threaten Mekong Delta environment
07.05.2018
VietNamNet Bridge – Under the national power development plan in 2011-2020 (seventh plan) approved by the Prime Minister in 2016, a series of coal-fired power plants will be built in the Mekong Delta.
Bac Lieu upbeat about US$4.3 billion gas-fired power plant
01.24.2019
CAN THO – The government of Bac Lieu Province expects the construction of a liquefied natural gas (LNG)-fired power plant, with total capital of US$4.3 billion, to generate VND2,500-VND3,000 billion in annual revenue for the provincial budget.
DOE Head Office
Ago Hub, 12 Hoa Ma,
Hai Ba Trung District,
Hanoi, Vietnam
DOE America Office
26400 Kuykendahl Rd.
Suite C180-289
The Woodlands, TX. 77375